See on Scoop.it – reNourishment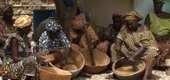 Slow Food is a non-profit, eco-gastronomic member-supported organization that was founded in 1989 to counteract fast food and fast life, the disappearance of local food traditions and people' where it comes from, how it tastes and how our food…
Alice Ruxton Abler's insight:
In many parts of the world, women traditionally have an important role in providing food for the community and for their families. They cultivate the soil, look after the seeds of traditional plants, and safeguard recipes of the local cuisine. Yet the situation of women farmers is too often a story of a denial of the fundamental and inalienable right to feed themselves.
We tend to forget that the future of many developing countries is in the hands of women. According to FAO, if women farmers had access to the same opportunities and resources as their male counterparts, their productivity would rise significantly and the food security of millions of people would be improved. Our job is to support them, put their demands for rights at the center of debates on development, campaigns and actions of political pressure from civil society.
See on www.slowfood.com