See on Scoop.it – reNourishment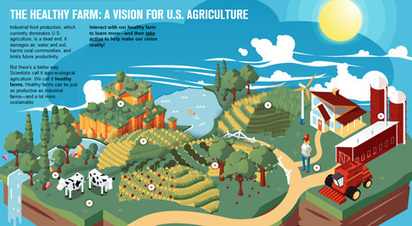 A Vision for US Agriculture
Explore the sustainable, science-based future of American agriculture with this interactive "healthy farm" graphic.
We know that we need to find better ways to grow our food and treat our environment, and repair the damage done through decades of monocrops and CAFO feed lots. It's sometimes hard to visualize anything other than what has become the norm. So here is an interactive graphic to help us understand what can be done through agro-ecological agriculture, which we hope is the wave of the future. But in many ways it looks a lot like the past. Take a look.
From Healthy Farm Principles (link below):
"A healthy farm practices sustainable agriculture, which means it must do three things well:
"Productivity. A healthy farm produces food in abundance.Economic viability. A healthy farm is a thriving business that provides a good living and fair working conditions to those who work on it, and contributes to a robust local and regional economy.Environmental stewardship. A healthy farm maintains the fertility of the soil and the health of the surrounding landscape for future generations.
"To meet these goals, farmers use an approach to agriculture that focuses on four qualities that characterize the healthy farm:
"It is multifunctional, recognizing that productivity, while indispensable, is not the farm's sole objective. As well as providing food, the farm also performs important social, economic and environmental functions.
"It is regenerative, using methods that constantly improve the fertility of the soil, foster biodiversity both within and beyond the farm's boundaries, and recycle essential nutrients.
"It is biodiverse, incorporating a wide variety of crops, land use choices, and options for raising livestock and poultry.
"It is interconnected, seeing the farm as an integral part of the landscape that surrounds it, not an isolated production facility."
~Until next time . . .