See on Scoop.it – reNourishment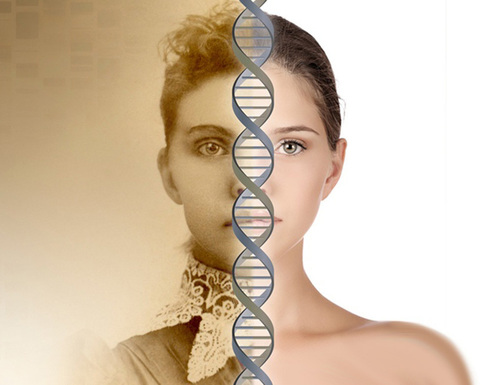 Your ancestors' lousy childhoods or excellent adventures might change your personality, bequeathing anxiety or resilience by altering the epigenetic expressions of genes in the brain.
Epigenetics can explain so much—why some of us are predisposed to one trait or another. And now we know that what our grandparents did or experienced can affect us in ways we are only beginning to understand. From an article on discovermagazine.com:
"Originally these epigenetic changes were believed to occur only during fetal development. But pioneering studies showed that molecular bric-a-brac could be added to DNA in adulthood, setting off a cascade of cellular changes resulting in cancer. Sometimes methyl groups attached to DNA thanks to changes in diet; other times, exposure to certain chemicals appeared to be the cause. Szyf showed that correcting epigenetic changes with drugs could cure certain cancers in animals.
"Geneticists were especially surprised to find that epigenetic change could be passed down from parent to child, one generation after the next. A study from Randy Jirtle of Duke University showed that when female mice are fed a diet rich in methyl groups, the fur pigment of subsequent offspring is permanently altered. Without any change to DNA at all, methyl groups could be added or subtracted, and the changes were inherited much like a mutation in a gene. . . .
"According to the new insights of behavioral epigenetics, traumatic experiences in our past, or in our recent ancestors' past, leave molecular scars adhering to our DNA. Jews whose great-grandparents were chased from their Russian shtetls; Chinese whose grandparents lived through the ravages of the Cultural Revolution; young immigrants from Africa whose parents survived massacres; adults of every ethnicity who grew up with alcoholic or abusive parents—all carry with them more than just memories.
"Like silt deposited on the cogs of a finely tuned machine after the seawater of a tsunami recedes, our experiences, and those of our forebears, are never gone, even if they have been forgotten. They become a part of us, a molecular residue holding fast to our genetic scaffolding. The DNA remains the same, but psychological and behavioral tendencies are inherited. You might have inherited not just your grandmother's knobby knees, but also her predisposition toward depression caused by the neglect she suffered as a newborn."
Fascinating material, providing a tiny glimpse into a largely uncharted field.
~Until next time . . .